Olivier Giroud feels he may have taken inspiration from Henrikh Mkhitaryan when it comes to his scorpion goal against Crystal Palace for Arsenal at the Emirates Stadium today.

The striker was involved in a rapid Arsenal counter attack in the opening stages of the Premier League game and surged forward to make sure he connected with a cross ball.

The ball was coming just behind the Frenchman and he flicked it in a scorpion motion, sending the ball flying into the top corner of the net and already booking a contender for goal of 2017.

The effort was similar to a goal scored recently by Manchester United's Mkhitaryan and Giroud admits the Red Devil may have inspired him. However, he also concedes he had little in the way of options as the ball was behind him.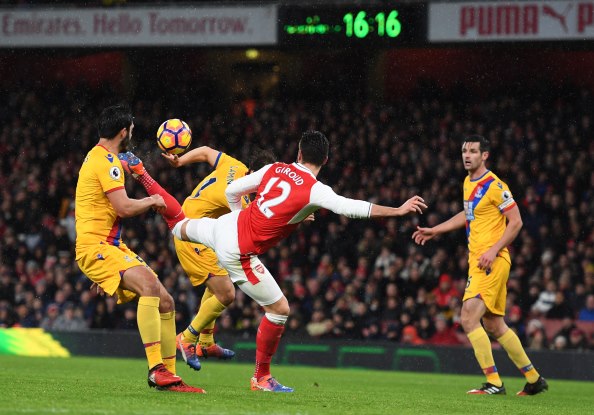 "It is not difficult to say it is the best one", he told the BBC, when asked if it is the best goal he was scored.
"I was a bit lucky but it was the only thing I could do, the ball was behind me and I tried to hit it with a backheel.

"Maybe [Mkhitaryan's] goal inspired me, it's the only thing you can do in that position.

"It is nice for me and the team because we start the year with a win", Giroud added.

Alex Iwobi scored Arsenal's second goal in the 56th minute to kill off Sam Allardyce's men and move the Gunners up to third spot in the Premier League standings, nine points behind leaders Chelsea and three off second placed Liverpool.