Arsenal manager Arsene Wenger admits that Olivier Giroud's goal against Crystal Palace on Sunday was one of a kind and has claimed he has not seen such a strike in his coaching career.

Giroud produced a sumptuous scorpion kick to open the scoring for Arsenal at the Emirates and while Alex Iwobi also scored another goal, the Frenchman dominated the headlines after his side's 2-0 win over Palace.

One of the most difficult finishes to execute, Alexis Sanchez's cross was behind Giroud, but the forward flicked the ball from high behind his back to find the top corner.

Wenger lavished praise on the way his compatriot produced a moment of magic to open the scoring for the Gunners and feels a lot of things went into creating such a beautiful goal.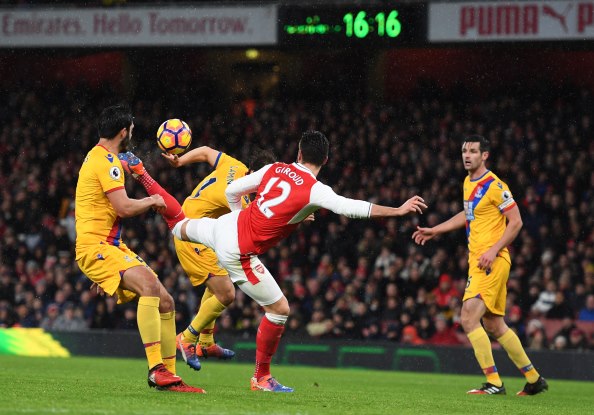 The Arsenal boss told French broadcaster SFR Sport: "It is one of the most beautiful goals I have ever seen; the surprise and the dramatic move was part of the beauty.
"I often tell players that beauty is in efficiency; the magnificent gesture, the surprise, the spectacular and the effect – everything is combined to make art.

"The involvement of Giroud from the start of the move pleased me; it's a team goal with a surprising individual brilliance, like ballet."

Wenger revealed that Giroud does score some spectacular goals in training too, but he had never seen him produce such a moment; he insisted that it is one of the best goals he has seen in his coaching career.

"In training, when he practices, he scores some spectacular goals, but I have never seen one like that.

"In 30 years I have never seen such a goal, with such a high ball at the back; I don't remember."