Former Arsenal youth boss Andries Jonker has warned Tottenham Hotspur and Real Madrid target Frenkie de Jong against making the move away from Ajax too soon.

The young midfielder is on the radar of several of the biggest clubs in Europe, including Barcelona, Real Madrid, Tottenham and Bayern Munich.

De Jong has taken big steps forward in his development, even being capped by the Netherlands at senior international level, and Ajax are expected to be tested with bids for his services soon.

Jonker has long been aware of De Jong and revealed that he was told about the midfielder's potential by a colleague.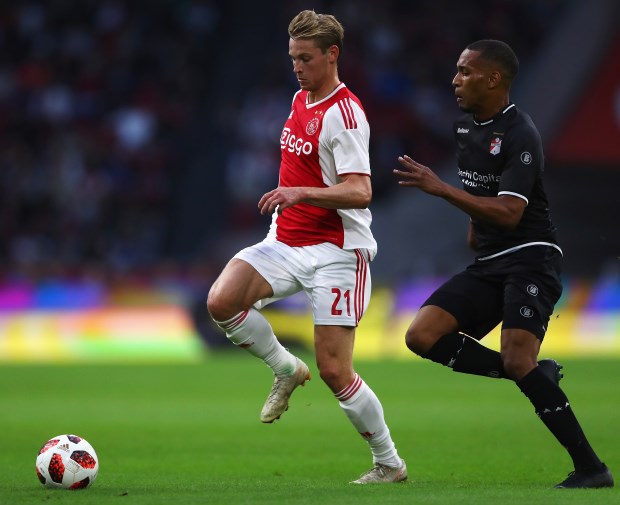 The former Arsenal youth boss told Dutch outlet Voetbal Primeur: "I was tipped off very early about him by a Willem II expert, Jan van Gool, who was the first ever to say to me 'we have someone who can get to the absolute top at Willem II'.

"Frenkie was about 14 years old and Van Gool said 'We have a top player in the house, if you can ever get him, wherever you are working, you have to do it'."

Jonker though is cautious about De Jong leaving Ajax too soon, having had first hand experience at what a switch abroad too early can do to a young talent.

"At Bayern, at Arsenal and at Wolfsburg, I saw from all sides what happens when boys make that step too early.

"At Wolfsburg, we got Kevin De Bruyne at the time; he came back disappointed from Chelsea and we had to work with him.

"[He] made the step too early."

But Jonker insists that his advice over moving too soon is not simply due to a player's age, as he stressed the importance of playing 100 professional games before making the leap abroad.

"That is not age related so, if a player makes their debut at the age of 16 and plays for three seasons, they are at that number [of 100 games] by the age of 20.

"Go and play 100 games first!"

De Jong, 21, has so far made 50 appearances across all competitions for Ajax at senior level.